Creating a Resume: A Guide for Clinicians
To land that dream role or travel opportunity, having a strong resume is essential for any clinician. Your resume is your first opportunity to make a positive impression on potential employers. To help you stand out, here are some valuable tips for creating an effective resume.
Tips for Registered Nurses (RNs):
1. Start with a Clear Objective Statement: Begin your resume with an objective statement that highlights your career goals and the specific area of nursing you are passionate about. Tailor this statement for each job application to demonstrate your genuine interest in the position. Make this short and sweet, keep it to two to three sentences max.
2. Highlight Your Education and Certifications: List your nursing degree, along with any additional certifications and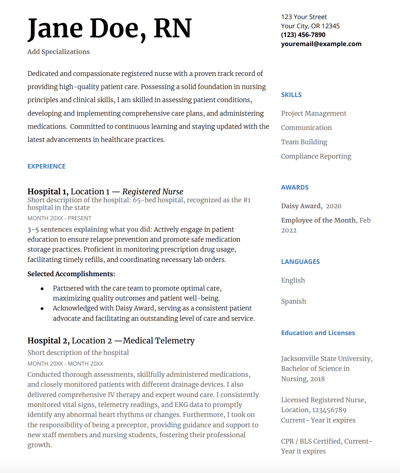 licenses you hold. Include details about your nursing school, graduation date, and relevant coursework. Emphasize any specialized training or certifications you have obtained, such as Advanced Cardiovascular Life Support (ACLS) or Pediatric Advanced Life Support (PALS).
3. Showcase Your Clinical Experience: Detail your work experience in reverse chronological order, emphasizing your roles and responsibilities in each position and how long you worked there. Focus on your achievements and notable contributions, such as improvements in patient outcomes, successful implementation of protocols, or mentorship of junior staff.
4. Highlight Relevant Skills: RN resumes should highlight both technical and soft skills. Technical skills may include proficiency in electronic health records (EHR) systems, medication administration, and specialized nursing procedures. Soft skills like communication, empathy, and teamwork are equally crucial in nursing roles, so be sure to emphasize your ability to work well with patients, families, and colleagues.
5. Include Professional Memberships and Awards: If you are a member of professional nursing organizations like the American Nurses Association (ANA) or the National League for Nursing (NLN), include this information on your resume.
Need help building your resume? Here is a resume-building tool for you: https://www.resumebuilder.com/
Looking for more tips on how to build an RN Resume? See our video here:
Tips for Licensed Vocational Nurses (LVNs):
1. Craft a Compelling Summary: Create a compelling summary at the beginning of your resume that highlights your skills, experience, and passion for nursing. Clearly state your LVN certification and any additional training or specialization you possess.
2. Detail Your Practical Experience: Focus on your hands-on experience in patient care, including your roles in medication administration, wound care, and patient assessments. Discuss your responsibilities in different healthcare settings, such as hospitals, clinics, or long-term care facilities. Highlight any leadership roles or additional responsibilities you undertook.
3. Emphasize Your Interpersonal Skills: LVNs need strong interpersonal skills to communicate effectively with patients, families, and colleagues. Showcase your ability to build rapport, provide emotional support, and collaborate within a team. Highlight instances where your communication skills positively impacted patient outcomes.
4. Include Continuing Education and Training: Mention any relevant continuing education courses, workshops, or certifications you have completed. This demonstrates your commitment to staying updated with the latest developments in nursing and showcases your dedication to professional growth.
5. Highlight Your Adaptability and Problem-Solving Skills: Nursing environments can be dynamic and challenging. Showcase your ability to adapt to different situations, handle emergencies, and solve problems effectively. Employers value nurses who can think on their feet and provide quality care even in high-pressure situations.
Tips for Certified Nursing Assistants (CNAs):
1. Craft a Strong Summary: Begin your resume with a compelling summary that outlines your key skills and experience.
2. Detail Your Training, Education, and Certifications: List your CNA certification, including the name of the program, the certification date, and any relevant coursework or specialized training you have completed. If you hold additional certifications such as Basic Life Support (BLS), be sure to mention them as well.
3. Emphasize Practical Experience: In the experience section, focus on your hands-on experience in patient care. Discuss your responsibilities, such as assisting with daily living activities, monitoring vital signs, and providing emotional support to patients. Highlight any specialized areas you have experience in, such as working in a nursing home or a hospital.
4. Demonstrate Strong Interpersonal Skills: CNAs need excellent communication and interpersonal skills. Showcase your ability to build rapport with patients, families, and colleagues.
5. Highlight Teamwork and Adaptability: CNAs often work closely with nurses, doctors, and other healthcare professionals. Highlight your ability to collaborate effectively within a team and your capacity to adapt to different work environments and patient needs.
Need help building your resume? Here is a resume-building tool for CNAs: https://www.resumebuilder.com/cna-resume-examples/
General Tips for Both RNs and CNAs:
1. Keep It Concise and Well-Formatted: Limit your resume to one or two pages, focusing on the most relevant and impactful information. Use clear headings, bullet points, and a clean, professional font to enhance readability.
2. Add Your Contact Information: Make sure to add your contact information at the top of your resume, add your phone number and your email. The hiring manager needs a way to get ahold of you!
2. Tailor Your Resume for Each Job Application: Customize your resume for each position you apply for by emphasizing the skills and experiences that align with the specific job requirements.
3. Proofread Carefully: Proofread your document thoroughly to ensure correct grammar, spelling, and punctuation. Consider asking a trusted friend or colleague to review your resume.
Looking for flexible work opportunities? Upload your new and improved resume to the FleetNurse app and start finding local, high-paying shifts! Our app matches your skills and qualifications with available shifts, allowing you to choose the shifts that best fit your schedule and preferences. Don't miss out on the chance to showcase your expertise and secure rewarding nursing positions. Start your journey towards a fulfilling and flexible career by uploading your resume to our app today