What Is Per Diem Healthcare Staffing?
Whether you are looking for a new job or are interested in earning some extra income, it is important to understand exactly what you are looking for. Are you wanting more flexible hours? Want the opportunity to work in various locations or units? Just looking for ways to make more money doing what you love? If any of these sound at all appealing, Per diem nursing may be right for you.
Full-time nursing positions typically require strict schedules and longer shifts, while PRN or per diem nursing positions are typically more part-time and "as needed."
Wondering if Per Diem nursing could be a good fit for you or your healthcare facility? We are here to help!
Why do nurses choose it?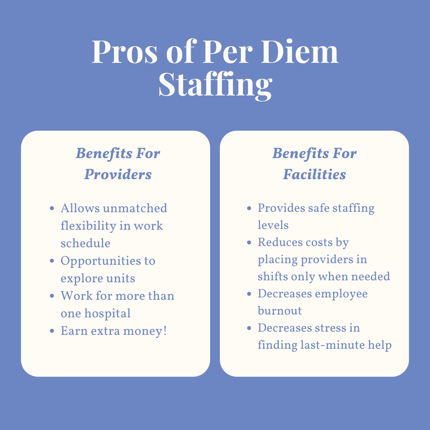 Nurses are tasked with incredible responsibility that comes with high pressure and stress, often resulting in feeling burnt out or even defeated in their career. Healthcare employees now want flexibility, a proper work-life balance, and the freedom to choose when and where they want to work.
Nurses are inspiring people, taking on the high-pressure and heartfelt moments in life with a level of skill and kindness that can be hard to match. Per diem nursing is exciting and challenging and can be the solution for healthcare professionals ready to prioritize their health and life.
Why do facilities choose it?
Having a local pool of quality per diem nurses available allows a facility to maintain safe staffing levels and keep their costs down by using those nurses only when they're needed. This can help stop burning out existing float pools by ending the pressure to pick up shifts they don't want.
Employees are now wanting flexibility, and this gives facilities the opportunity to select high-quality candidates to come in only when needed. Per diem nursing may be a big shift, but as technology continues to revolutionize the healthcare industry, it is a change that is powerful as well as necessary.