Mental Health Concerns in Healthcare Workers
Throughout the Covid-19 pandemic, the number of those experiencing anxiety, depression, loneliness, and other mental health concerns increased. This includes those working in the healthcare industry. Even before the pandemic, healthcare workers were experiencing high levels of mental illness, according to the Centers for Disease Control and Prevention (CDC) 1 in 25 Americans lives with a severe mental illness, including major depression.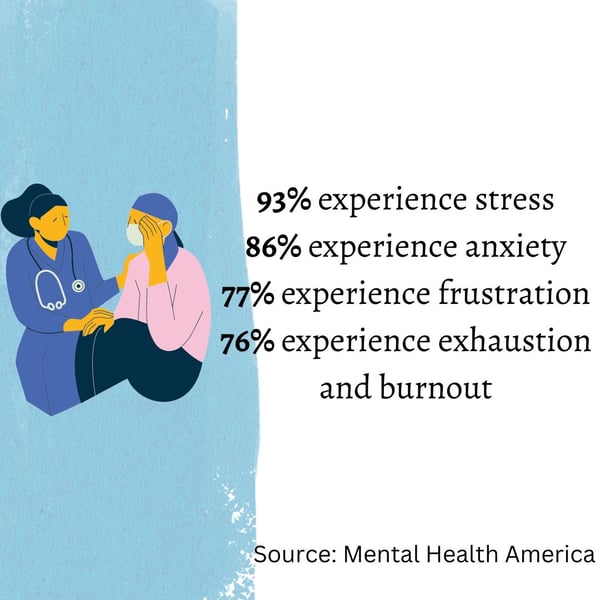 Mental Health America surveyed healthcare workers and found that 93% were experiencing stress, 86% reported experiencing anxiety, 77% reported frustration, 76% reported exhaustion and burnout, and 75% said they were overwhelmed. 45% of nurses reported they were not receiving enough emotional support.
According to the CDC, there are various reasons why healthcare workers experience mental health problems. Including:
Stressful and emotional situations
Exposure to human suffering and death
Pressures from relationships with the patient, family members, and employers
Working conditions with ongoing risk for hazardous exposures such as COVID-19, other infectious diseases, hazardous drugs, and more
A survey from back in 2020 showed that 93% of health workers reported being stressed out and stretched too thin, while 82% shared being emotionally and physically exhausted.
RESOURCES:
The Suicide & Crisis Lifeline is also available 24/7. You can now call or text 988 to get help or visit www.988lifeline.org
Here at FleetNurse, we give nurses across the country the chance to bring back flexibility into their life by letting them choose the shifts they want and be able to see higher wages. Giving them the chance to help relieve workplace and personal stress. We have helped over 35,000 healthcare professionals take back control of their lives and their careers, download the FleetNurse app today to get started on the process.