Violence Against Nurses on the Rise
Violence against nurses continues to rise across the country, as hospitals are now seeing more reports of these incidents. The pandemic has created stress on the healthcare system, patients, and their families, and in turn, increased violence against nurses and hospital staff.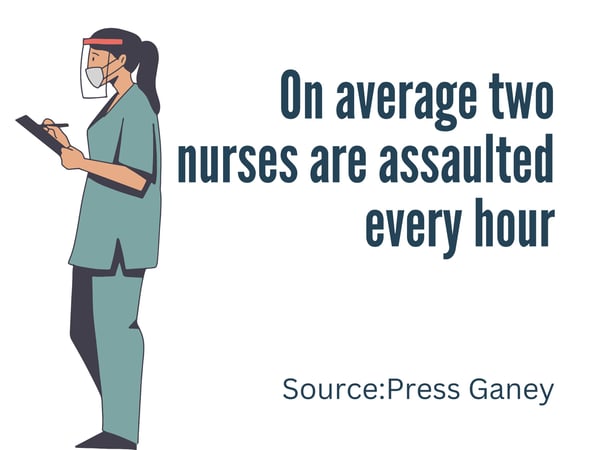 The World Health Organization (WHO) defines workplace violence as, "Incidents where staff are abused, threatened, or assaulted in circumstances related to their work, including commuting to and from work, involving an explicit or implicit challenge to their safety, well-being, or health." WHO considers both physical and psychological harm, including attacks, verbal abuse, bullying, and both sexual and racial harassment, to be workplace violence.
According to a 2022 report by Press Ganey, more than 5,200 nursing personnel were assaulted in the second quarter of 2022, with patients being the largest source of violence. In the second quarter of 2022, Press Ganey found that on average two nurses were assaulted every hour.
While workplace violence can occur in any industry, it is about four times more prevalent in healthcare than in other industries, according to the Cleveland Clinic.
Press Ganey found that the majority of aggressors are patients, but while patients are the largest source of violence, family members, co-workers, visitors, and intruders also were violent.
So what can be done to help stop violence against healthcare workers?
The American Nurses Association has started the #EndNurseAbuse movement. There you can find ways to develop policies and identify strategies to address barriers to reporting violence and abuse.
According to the BusinessWire here are some steps that organizations can take to help mitigate the violence:
Implement reporting systems for record-keeping and safety and well-being program evaluation:
Ensure caregiver safety is a core value and set the expectation that violence on the job is neither expected nor accepted
Enact formal policies and procedures for risk identification, hazard prevention and control, standard response plans, and post-incident support
Implement training and education programs that teach warning signs, de-escalation techniques, progressive behavior control, emergency management, and communication and teamwork.