Importance of Safe Staffing in Healthcare Facilities
The nursing profession is experiencing a decline in staff across the United States. According to the U.S Bureau of Labor Statistics, employment of registered nurses is projected to grow 9 percent from 2020 to 2030. Currently, about 194,500 openings for registered nurses are projected each year, on average, over the decade. Accompanying this growing need for nurses is the dramatic decline of job satisfaction in nurse work environments since 2018.
A common theme for the success of both healthcare professionals and facilities is achieving safe staffing levels. Safe staffing allows nurses to deliver safe, quality care in healthcare facilities. It can also reduce nurse fatigue, prevent burnout, and increase patient satisfaction. Unfortunately, the healthcare industry, especially during COVID, has faced severe understaffing of nurses. It has been proven that the cost of hiring more nurses has benefitted patients and healthcare facilities.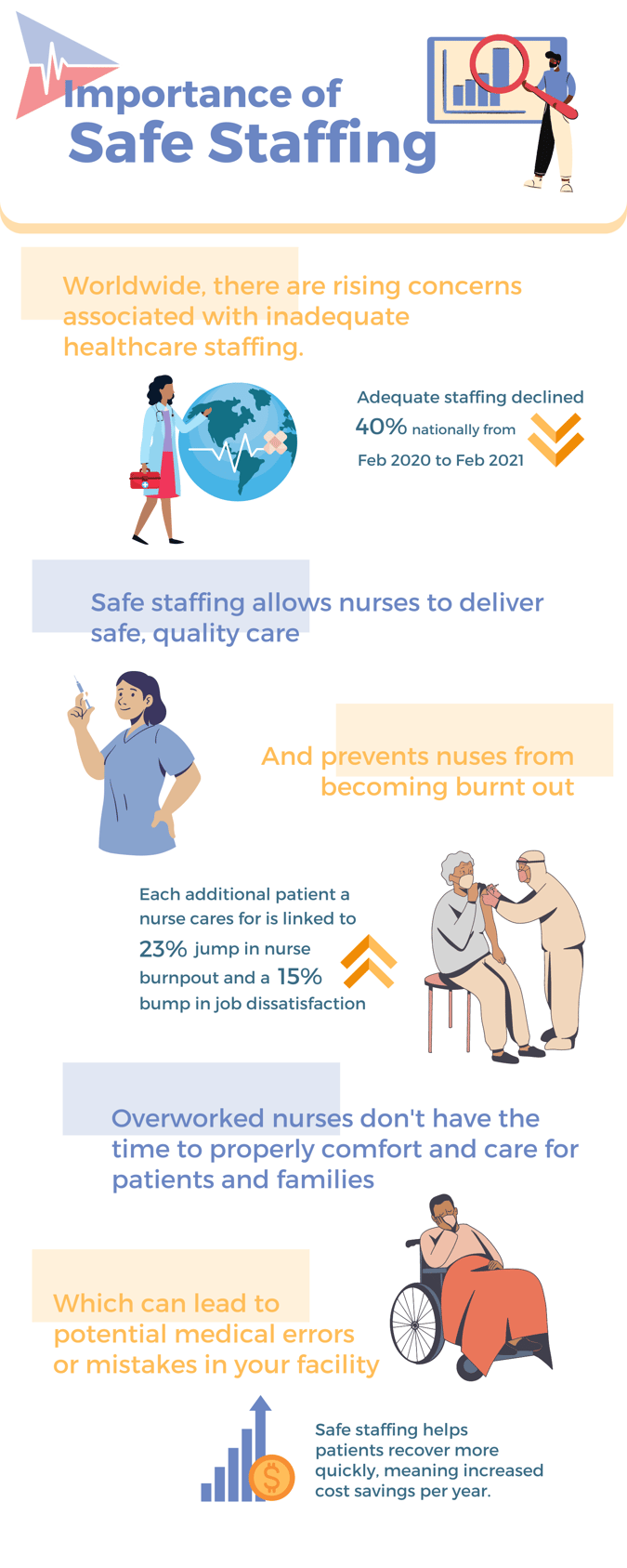 The Benefits of Safe Staffing
When it comes to safe staffing there are multiple benefits for your facility such as it improves patient outcomes, and satisfaction, and improves care costs. Safe staffing prevents nurse burnout and allows your staff to focus on your patients and give them the attention that they deserve. This can help prevent issues in the future.
A 2018 survey by the Massachusetts Nurses Association found that 90% of RNs reported that they don't have the time to properly comfort and care for patients and families due to unsafe patient assignments. Inadequate staffing could put your patients at risk, it can lead to overworking and burnout which can worsen the current nursing shortage. With nurses being overworked it can lead to potential medical errors or mistakes in your facility.
You may think that less staff could help cut costs around your facility, but it is the opposite, study shows short-staffing increases hospitals' operational costs but does not decrease overall profitability.
Research Related to Patient Care
Short-staffing increases patients' risk of death by between 4% and 6%. This risk is higher within the first five days of admission
How can FleetNurse help?
FleetNurse helps improve staffing levels and reduces staffing-related costs for facilities while providing nurses and nursing assistants flexibility in their work lives. Using innovation and technology, FleetNurse has become a trusted labor partner that connects health systems to quality healthcare providers on demand. Healthcare professionals are allowed to work on a schedule that works for them, while healthcare facilities are able to fill shifts at the last minute.
Quality patient care and the wellbeing of healthcare professionals are both at the forefront of everything FleetNurse stands for. Through technology and servant leadership, FleetNurse's mission is to provide exceptional care anytime, anyplace.